Photos from the Conference events
In the 7-th specialized exhibition "GEO-KAZAN: exploration. Geodesy. Cartography" will be held the international conference "Current issues of geodesy and geoinformation systems".
The conference will be held 6 - 7 September 2017 in the city of Kazan in the pavilion №1 conference-hall "Kama", OJSC "Kazanskaya Yarmarka" the Orenburg tract, 8 and the astronomical Observatory of K(P)FU to them. Engelhardt
Today, the first day of the conference, presentations were made by the representatives of JSC "Roskartografiya"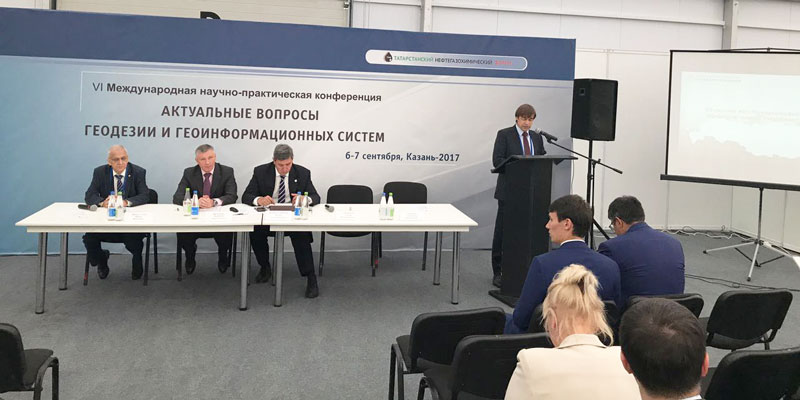 Speaker - Serebryakov S. - Deputy gen.Director for innovative development of JSC "Roskartografiya"
The conference will discuss following issues:
State policy in the field of modern high-precision coordinate and time support geodetic, cadastral work, GIS application and remote sensing data;
Problems and prospects for the creation, use and integration of the geodetic infrastructure of the region and Federal district. The use of GSK-2011. Issues and challenges in the creation and use of a Single electronic cartographic basis for the conduct of GIS;
The creation, management and development of Federal, regional, departmental, sectoral funds spatial data, geodatabases, and metadata;
Import substitution. The choice of GIS architecture, domestic space groups upon import substitution in the field of remote sensing and GIS;
Experience in the development and implementation of Federal, regional and municipal GIS, prospects of development of space monitoring of high-precision positioning (SMTP):
- in the oil and gas industry and subsoil use;
- in the field of environmental protection and nature management;
- for the decision of tasks of socio-economic development of the region and the Federal district;
- for inventories (natural resources, land, urban development, industrial enterprises, industrial complex);
- for the decision of tasks of management of the property complex;
- to manage regional agribusiness;
- to preserve and study cultural heritage;
Evaluation of economic efficiency of introduction of GIS and use of remote sensing data;
Questions of the use of unmanned aerial vehicles for solving problems of territorial development;
Modern state and prospects of development of system of preparation and improvement of professional skills for geodesy, Geoinformatics, cartography and remote sensing of the Earth.
Первый день работы международной научно-практической конференции в Казани
The first day of the international scientific-practical conference in Kazan
The second day of the international scientific-practical conference in Kazan
Photos from the Conference events
According to materials gisa.ru