The delegation of JSC "Roskartografiya", headed by Director General Dmitry Krasnikov, took part in the International military-technical forum "Army-2018", which was held on August 21-26 in the "Patriot".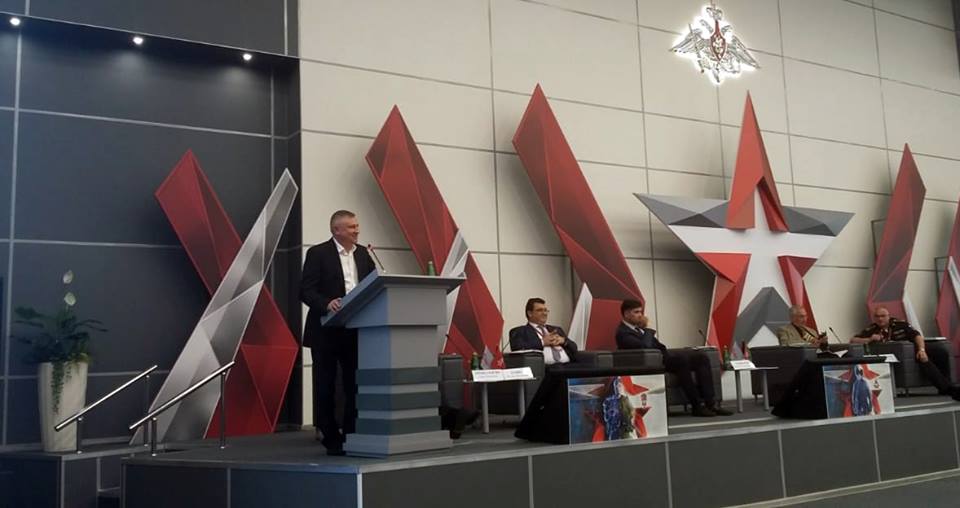 This year, the Forum gathered an unprecedented number of guests and participants – more than 1 million people from 118 countries, 26 459 samples of military and dual-use products were demonstrated, more than a hundred official bilateral meetings were held, 155 events of the scientific and business program were organized.
D. M. Krasnikov, General Director of JSC "Roskartografiya", presented his report at the round table "Actual problems of ensuring national security in the Arctic region". The presentation was dedicated to the National Atlas of the Arctic, released by the company in 2017, and its new electronic version.
The Arctic is of great strategic importance for Russia, and the state will pursue a policy of expansion, involving huge territories in the North of the country in economic activity, so that the issues of systematic development of the region will need to be addressed clearly and quickly. The national Atlas of the Arctic is an excellent tool for planning measures to ensure safety, environmental stability, industrial development of the Arctic zone of Russia.
The report of the head of JSC Roskartografiya was particularly relevant in the light of the increased need for interdepartmental cooperation and the development of international cooperation in solving security problems in the Arctic region.
"The national Atlas of the Arctic contains not only maps of the polar territory of the Russian Federation – geological, soil, climatic, magnetic anomalies and many others," D. M. Krasnikov commented. – It includes valuable information about the geographical, ecological, economic, historical,ethnographic, social features of the Arctic region. Our Atlas is the result of the work of dozens of specialists from various industries. The same spirit of collaboration and interagency cooperation should be an example at the decision of tasks on development of the region. Only together can we achieve the tasks set before us by the state."