3D modeling
3D modeling of objects
Allows you to visualize spatial information in a three-dimensional object model for the solution of problems of designing, reconstruction, repair of concrete infrastructure on the territory of industrial enterprises, plants, areas of urban development.


Demidov's leaning tower, Nevyansk

Is a tool for visual landscape analysis to identify opportunities and ways of adapting the planned urban interventions.


Development of projects of reconstruction and restoration



St Trinity Cathedral city of Verkhoturye

Allows you to monitor over time: current state, unrealized design decisions or future project proposals.
3D modeling of the territories
Allows you to visualize spatial information in three-dimensional terrain model for visual presentation. Digital elevation models are useful to perform spatial analysis of the evaluation areas.

Relief map of the centre of Ekaterinburg, combined with elements of the hydrographic network

Used to assess the level of soil erosion and formation of avalanches, calculation of zones of visibility in the design of radio-relay networks.
Is a visualization tool for the design of roads, power lines, oil and gas pipelines, inventory and control of engineering networks and etc.
3D model of "Reconstruction of the road network in the zone of gravity of the multifunctional complex "Guards of Ural mountains" and the Grand sports arena of the Central stadium"

| | |
| --- | --- |
| | |
| 3D model of the Alexander Nevsky Cathedral, Ekaterinburg | Click on the image and rotate the 3D model |
3D modeling of process
Is used when solving the problems of forecasting and risk assessment of consequences of emergency situations, identifying areas of inundation and contamination of catchment areas, avalanche areas, the level of soil erosion, etc.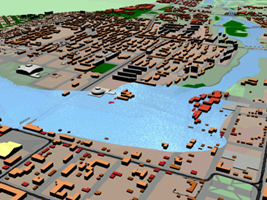 3D model the flooding of the river floodplain
Information-analytical center of JSC "Uralgeoinform" provides qualified 3D modeling in Ekaterinburg on the basis of modern and advanced technologies in cartography and three-dimensional design.
These services facilitate a number of tasks in urban planning and socio-economic development of the municipalities and other areas.
Digital three-dimensional design of the landscape provides the opportunity to undertake a visual analysis of the territory in the following areas:
Design, construction and reconstruction of industrial, residential and infrastructure purposes;
Finding opportunities for urban design;
The monitoring site in time;
Assessment of soil erosion, avalanche danger and visibility of radio-relay stations.
In addition, 3D terrain modeling allows to predict the consequences of emergencies such as flooded areas, emissions etc.