Thematic mapping
Thematic mapping is the most promising and independent of the direction of the development of cartographic science. To order modern thematic maps, atlases and albums with the application of a variety of thematic information in JSC "Uralgeoinform" in Eekaterinburg.
Thematic maps are a visual representation of different socio-economic and natural phenomena or objects. These resources form the contents of this cartographic products, with items with topographic information constitute the geographical basis of thematic maps, atlases and albums.
Professional and multi-functional
Printed and electronic publications of our center are a product that can accommodate the experience and achievements of various Sciences and fields of economic activities, including such areas as tourism, agriculture, history, Geology and archaeology.
We create thematic maps, atlases and albums of various areas for the territories of Ural Federal district. Products produced by our company can be used to:
The solution of various departmental and application tasks for various objects of the Ural Federal district;
Systematization of specific information themes in the formation of various reports and presentations;
Additional visualization of geographic information.
Our thematic cartography by means of computer graphics in a geographic information systems can visualize a special cartogram allows to observe the dynamics of different processes in space-time.
To order our services, including the application of targeted plans, preparation of schemes of territorial planning, the creation of modern photos using quality sources of aerial and satellite imagery you can on our website or in the office of the regional centre in Ekaterinburg.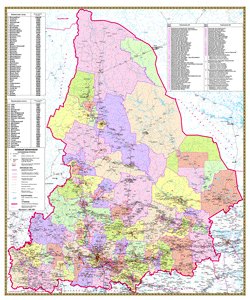 Municipal education of Sverdlovsk oblast with borders
The reconstruction of historical cartographic materials, preparation and printing of educational maps and atlases. Created an album of plans of Yekaterinburg since the founding, historical Atlas of the Urals.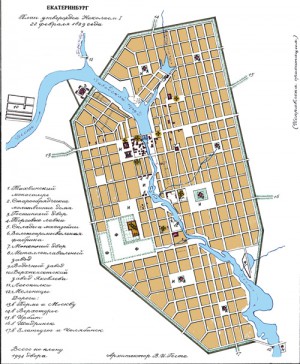 Plan of Ekaterinburg 1829
Application address plans, preparation of territorial planning schemes.
Creating photos with the use of satellite imagery and aerial photography.
Design, full color large format printing, laminating
Translation of printed cartographic works in the electronic, raster and vector form