The use of GIS at the forecast and assess the damage from the disaster
The use of GIS at the forecast and assess the damage from the disaster
Formation of accounting documentation.
The system allows you to print maps (map segments) with applied decor on es to generate standard forms (1-9/ES) reporting documentation, print data from the Registry of POO, export inventory data to Excel, Word.
Forecast of flooded areas during floods and floods.
Plotted flooded areas according to digital map using digital elevation model and input values of gauging stations. The result of a spatial query defines the objects that fall in the flood zone, population, etc.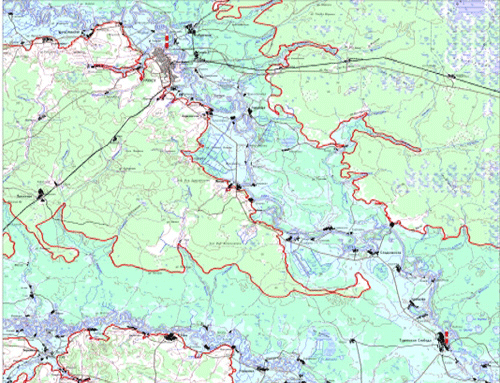 The positioning of the fires on a digital map according to the coordinates "longitude latitude" or the name of a forest area and number of forest quarter, based on the aerospace and ground-based observations. According positioning specialists TCM monitor forest fires. Using the built-in module calculates the damage from forest fires.
For gathering information developed by the utility with the structure of the database (DB) system.
the accumulation, editing data objects emergency
obtaining information on potentially hazardous objects and of emergency situations
the forecast of consequences of emergency situations at the facility
perform spatial analysis using digital maps
the formation of maps to conduct emergency rescue operations
the creation of thematic maps,
print cartographic materials
printing of reporting forms of the established sample
normative – reference information
The system can be adapted for use in any monitoring center, the final objectives of life safety and territories, can also be used in the headquarters of civil defense of municipalities.
The introduction of new technologies for analysis and visualization of information (modeling), the use of satellite imagery for monitoring territories in the following areas:
flood situation and development trends of the processes of flooding and underflooding;
Biologicheskaya setting and its forecast for the territory forests;
anthropogenic pollution of soil and water bodies;
the phytosanitary condition of agricultural and forest vegetation;
state and dynamics of snow cover;
distribution of industrial emissions in the atmosphere and smoke pollution of the atmosphere;
anthropogenic soil degradation and natural landscapes;
run-of-river and erosion and gully processes;
monitoring before the disaster, ongoing and post-accident condition of the territories and the dynamics of their recreation.